CURRICULUM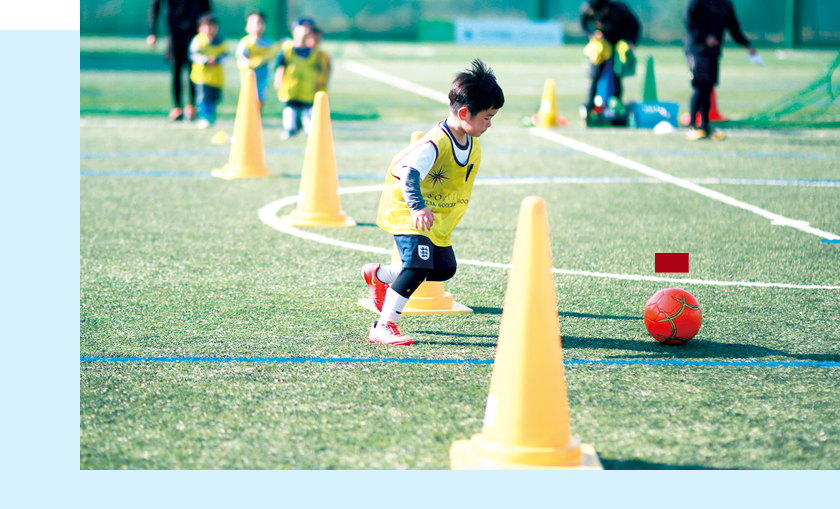 The world of football is always evolving.
Experienced leaders, including Keisuke Honda, are constantly working on updating the curriculum.
"SOLTILO curriculum" is a training curriculum suitable for the age of children by referring to many opinions from Keisuke Honda, experienced leaders, active trainers in the world, etc., by focusing on improving football techniques, improving exercise capacity, mental care, support for injuries, etc.
In addition, the world of sports is evolving day by day, new tactics are born, and new training methods are developed. Even at SOLTILO, leaders from all over the country exchange opinions and update the curriculum every day.
The SOLTILO curriculum is divided into more than 25 programs, but each coach will give guidance by using a suitable method of instruction and method of transmission for the players at each school.
In particular, while Keisuke Honda is playing at the top level of the football world right now, various things that he feels necessary for the training age are put in each curriculum.
Keisuke Honda himself is involved in the creation of every aspect of "SOLTILO curriculum".

Keisuke Honda himself is involved in the creation of every aspect of "SOLTILO curriculum". All school curriculums which have been carryied out at SOLTILO FAMILIA SOCCER SCHOOL THAILAND are handled by Keisuke Honda himself. Things that Keisuke Honda feels everyday while playing in the top level of the football world, from fine technical aspects to tactics, are always reflected in the new inputs into the school curriculum.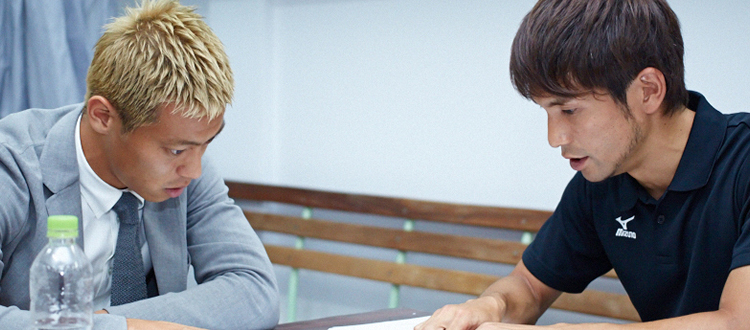 Curriculum devised with Keisuke Honda

The SOLTILO curriculum begins with devising a curriculum with Keisuke Honda by making contacts with Keisuke Honda several times a month and have meetings. Here, we are working to reflect on not only the school curriculum such as a new curriculum proposal, confirmation of a proposed curriculum, but also the input which Keisuke Honda himself currently felt while playing in the top level in the football world.
Coaching practice training for the coaches.

We regularly conduct "coaching training" to inform coaches who actually give guidance to children using the school curriculum which was created together with Keisuke Honda. While coaches actually experience the coaching points for each curriculum, the aim is to provide unified guidance to children by all the coaches nationwide.
Fostering of school players

The coaches use suitable instruction for the children while firmly holding to the clear points of each curriculum. In addition, we put up a guiding theme every month, by letting children be conscious of and work on training, to creat an environment that leads to improvement in daily motivation. Coaches are also dedicated to following and working on guidance.

Directing players to let them get a real feeling of improvement and growth every day

We will convey the joy of acquiring techniques

Rather than scolding failures, we will be firm toward working on aspects not yet challenged

Making high demand suitable for that player

We think that the environment in which children can completely burn out is important in their everyday school. By continuing to challenge them without fear of failure, by praising players firmly when they succeed, we are again also conscious of guiding them to atttempt the next level soon. By presenting the next task (coaching) without having time to satisfy the children with only the current situation, we are creating an environment where you can comfortably challenge to a high level.
—
From devising curriculum to coaching to children
Keisuke Honda feels that 3 elements are particularly necessary for the foster period.
1

Attitude to challenge no matter how many times they may fail- No fear of failure

It is important to show the attitude to challenge, to not give up to the end even if it fails many times.
Keep on having the feeling not to be afraid of failure, acquire the success by failing.
2

Pursue the speed that is assumed in the game- Play speed

From the training, to be conscious of the same play speed as the game. Higher technique is required by being conscious of speed, leading to improvement in technique level.
3

Aquire fine ball touch and stepwork

By being conscious of fast and fine ball touch, such as dribbling, a small step becomes essential, and at the same time it leads to an improvement in athletic ability.
Even in the same curriculum, we change to make a training menu according to grade year or personal level.
Kids・U8 Class

Increase the playing opportunity of touching the ball more

Focusing on having children like football and gusing children who are looking forward to attending every session. However, at the same time, we also aim at skill improvement. We aim to improve visible techniques by repeating technical training, especially focusing on improving exercise capacity to develop from stepwork training and fine ball touch so that you can use your body well. We actively communicate with parents and we also provide support to those players.
U10 Class

Learn various techniques and like having many choices

This is an age that feels acquiring skills is fun, being able to do things you could not do yesterday, and aiming to improve techniques by repeating the success experience. While refining individual techniques in technical training, we try to encourage a high attainment that fits the player. Do not fear failure, as we are always keeping in mind an environment, menus and coaching which can further skill improvement by challenging one to a higher level of achievement.
U12・U15 Class

Improve the quality of play and improve techniques and judgment speed

This is preparation for the next step. By pursuing faster playing speed, it leads to speed of judgment, improvement of technical skill, and improvement of athletic ability. Even while repeating mistakes, by pursuing speed, even if you go up to the next step, you will be able to demonstrate your maximum potential to the fullest. Also, you can cultivate your ability to think and take action by yourself, such as judgement and determination. It is no exaggeration to say that full-scale training for professionals starts from this age.
Injury / Growing Pain (Osgood)

At this age, injuries increase with rapid growth. Or you will see many athletes who suffer from knee and heel pain with growing pains.To such a player, I will perform correct treatment and treatment introduction, also how to train while checking on the pain at the same time. There are players who continue to play hard, trying to endure the pain and not to make a difference with other players, but that may lead to a bad result afterwards. so I will promote an environment where it is easy to consult with professional coaches without enduring any pain.
SOLTILO
FAMILIA SOCCER SCHOOL THAILAND
20 Soi Atthakawee 1, Rama4-Road, Klongton, Klongtoey, Bangkok 10110 Thailand
FREE TRIAL

Free

A warm welcome to the experienced and inexperienced children, regardless of gender!
Bright and cheerful coaches are waiting for you!