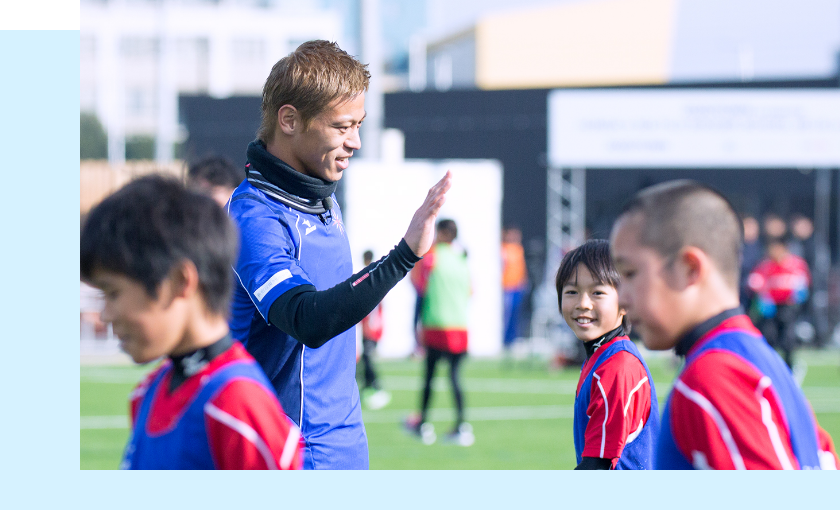 Message from Keisuke Honda
Message from Keisuke Honda
Since I became a professional football player, I started having a certain sense of mission. I didn't want to keep my own experience and what I have learned to myself. Instead, I wanted to share with children. I didn't want to wait until after retirement ,but should hand it down while I am still playing on European and the Japan national team. This is why I started this football school.
"SOLTILO FAMILIA SOCCER SCHOOL" is not targeting only children who good at football. The most important thing is to hand down to children the importance of having a dream. Children who do not like football, children who are not good at playing football, learn through football and have then said later on, "I am glad I went to this school". This is what I am aiming for with such a football school.

The Desire to Establish SOLTILO
Expressing the importance of having a dream through football
Expressing the importance of having a dream through football. "Dreams make people bigger. Dreams make people stronger". Keisuke Honda has been chasing his dream from an early age, and even now he is working hard toward the realization of that dream.
Keisuke Honda has had various setbacks and successes in his football career. Through these experiences I know the importance of having a dream and believing in myself. And I think that there are some things which I can convey only because of my experiences.
With such a background, in May 2012, "SOLTILO FAMILIA SOCCER SCHOOL", created by Keisuke Honda, was launched and was born.
Keisuke Honda currently is under contract and will not be involved in teaching students directly.
FAMILIA means "family " in Spanish.
The meaning included in this is that all people involved in SOLTILO want to be connected like a family.
Fosters players who can make judgments and decisions by themselves.

SOLTILO FAMILIA SOCCER SCHOOL not only improves techniques related to football, but also uses tool called football. We want you to learn what is necessary for becoming an adult.

In modern society, we feel it is getting more and more difficult for children to make decisions and to judge by themselves. Even football takes away the judgment of children by guidance and voices from outside the pitch, etc. Under such circumstances, we see many children who cannot judge by themselves.

We should give such kids many choices to choose, or let them learn to make decisions. It's important that adults should offer options to children, which children can judge by themselves. The brand new idea would not pop out if we give the children answer at once.

Similarly in football, having a lot of choices in any kind of situation, children themselves decide how to determine what to do. We think that it is our job to have as much knowledge as possible.

SOLTILO FAMILIA SOCCER SCHOOL THAILAND from all the staff
Everyone is equal in SOLTILO. Each and every person makes an effort for all his/her teammates. Everyone prepares and cleans up for training. It is always ideal for each person to strive toward their own goals.
However, in the world of sports, victory or defeat is always present. We think that it is most important to work hard under severe circumstances.

In SOLTILO, we want to draw out children's infinite possibilities, so we will train them with a one-year curriculum for each category: common techniques, individual techniques, and up to group tactics to all positions.
Even for a player whose position is fixed in the team, there are certainly new discoveries awaiting him/her as well.
Children are rich in susceptibility and think about a lot of things. Let children express their ideas in their own words and we will communicate with them.

This will lead to individuality and autonomy. When there are doubts during the training, by expressing the doubts you are thinking, and you can organize what you are thinking for yourself. When it is sorted out, the coaches' talks are easily absorbed by the child.

Working to put together ideas and opinions is something very important.

We believe that by having a firm conversation with the children, their ability to speak and think will develop.
We also want to grow together with children day by day. Children's pure hearts, honest feelings, attitudes toward their dreams, and their unsparing efforts toward football, are these not something important which many adults are forgetting?

What we can convey to children is to always have passion without compromise and to convey the enjoyment of football.

Not only do we want to convey to children, we want children to convey to us, and we will grow together day by day. We will build a good trusting relationship with our children and we will give every effort to make SOLTILO a good school.
SOLTILO
FAMILIA SOCCER SCHOOL THAILAND
20 Soi Atthakawee 1, Rama4-Road, Klongton, Klongtoey, Bangkok 10110 Thailand
FREE TRIAL

Free

A warm welcome to the experienced and inexperienced children, regardless of gender!
Bright and cheerful coaches are waiting for you!